Te Mana Whakahaere is the council that oversees Te Wānanga o Aotearoa.
Members of Te Mana Whakahaere are appointed for their ability to help Te Wānanga o Aotearoa fulfil its mission in alignment with the requirements of the Education Act 1989.
The council consists of nine members and includes three members appointed by the Minister for Tertiary Education and six members appointed by Te Mana Whakahaere – one appointment being the CEO, and another member being a current or former Te Wānanga o Aotearoa tauira (student).
Te Mana Whakahaere Constitution
Vanessa Eparaima (Chairperson)
Raukawa, Ngāti Tuwharetoa
Vanessa was elected Chair of Te Wānanga o Aotearoa in July 2016, having previously held the Deputy Chair role since February of the same year.
Vanessa has been the Chair of the Raukawa Settlement Trust since 2012 and is the director and former chairperson of Raukawa Iwi Development Ltd – the $140 million commercial arm of the iwi.
As chair of the Raukawa Charitable Trust, Vanessa leads strategy and oversight of the trust's social, cultural and environmental operations.
She also chairs Te Kākano Whakatipu Ltd – a company of six central North Island iwi with forestry interests in Kaingaroa – and is a director of Central North Island Iwi Holdings Limited, which is tasked with negotiating and finalising the replant right and investment option over the Kaingaroa Forest with the NZ Super Fund.
Bryan Hemi (Deputy Chairperson)
Ngāti Kahungunu, Ngāti Koata, Samoan
Bryan is a director of Kordia Group Limited, a telco and media business that provides network and technology solutions in New Zealand and Australia.
He is also the director of Te Puna Manawa, a health services provider to disadvantaged youth and high-needs Māori and Pacific Islanders in the Waitematā region.
Bryan has also held directorships with Quotable Value, Aotearoa Credit Union and Property IQ and holds an executive MBA from Auckland University.
He is a business consultant and shareholder with iToolsOnline Limited – a New Zealand-owned software company.
Katie Bhreatnach
Ngāti Mahuta, Ngāti Awa
Katie is a commercial lawyer who has extensive experience gained in the public and private sectors while practising in Australia, New Zealand, the U.K and Ireland.
She has undergraduate degrees in law and arts from the university of Otago and a masters from trinity college in Dublin.
Katie is also a member of the institute of directors.
Robert Gabel
Ngāti Kahu, Te Rarawa, Te Paatu
A chartered accountant since the early 1970s, Robert has provided financial, organisational management and taxation advice to a diverse clientele.
He was previously a mentor for the Māori Business Facilitation Service and the Institute of Chartered Accountants.
Robert is a director and trustee of Toi Māori Aotearoa Group and has led and been a member of boards of trustees and school committees, charitable trusts, marae and trust boards.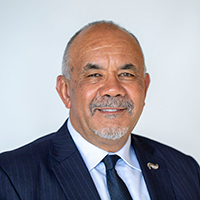 Hon. Te Ururoa Flavell
Te Taiurungi / Chief Executive
MA, DipTchg
Ngāti Rangiwēwehi, Ngāraranui, Ngāti Raukawa, Ngāti Te Ata, Ngāpuhi
Te Ururoa has extensive leadership experience in the Māori education sector as the former Chief Executive Officer of both Te Whare Wānanga o Awanuiārangi and Te Ataarangi. He is the former co-leader of the Māori Party and a former Member of Parliament for Waiariki. Te Ururoa also served as Minister of Māori Development and Whānau Ora and was an Associate Minister for Economic Development.
Stephen Ruru
Ngāti Raukawa, Ngāti Ranginui

Stephen Ruru is the CEO of the Southland District Council – the southernmost territorial authority in New Zealand.
He is also a director of Milford Sound Development Authority Ltd, and has previously served with Lakeland Health Ltd/Lakes District Health Board, and Department of Corrections, in various governance roles.
Stephen is a Chartered Accountant and a Fellow of the Institute of Chartered Accountants of New Zealand and holds a Bachelor of Management Studies majoring in Accounting from Waikato University.
Jon Stokes
Ngāti Raukawa, Ngāti Maniapoto
Jon is the owner of Stokes Communications Ltd, which provides public relations, communications, risk and strategy advice and support to not-for-profit, commercial, and government organisations.
Jon is a former award-winning journalist and has had a successful career in sales and marketing management.
He has governance experience across a range of sectors including agribusiness, commercial development, forestry, and iwi development.
Josh Wharehinga
Ngāti Porou, Te Arawa, Rongowhakaata, Te Atianga a Māhaki
Josh describes himself as 'first and foremost, a father' to his six teenagers. Born and raised in Gisborne, Josh's background is in education, social work and driving community initiatives. As a second term Gisborne District Councillor, Josh holds many portfolios, among them he is deputy chair for District Licensing and Finance and Audit. A trained Hearings Commissioner, he also sits on Community Development and Environmental Planning and Regulations.
Josh holds other governance positions, having also been elected to the Tairāwhiti District Health Board and Te Mana Whakahaere, and Te Maruata Roopu Whakahaere, the Māori Advisory Board to LGNZ.