2degrees representatives are visiting several rohe of Te Wānanga o Aotearoa over the next two weeks to help with the transition of our mobile phone services.

2degrees mobile business development manager Daniel Tupara was on site at Te Puna Mātauranga today and there were other kaimahi at Mangakōtuktuku helping with the migration of our mobile service from Spark NZ that was announced by Tumuhangarau Garry Johnston last week.

The 2degrees representatives will be at other rohe on:
Tāmaki Makaurau - 3rd June 2015
Waiariki/Hastings - 4th June 2015
Papaiōea/Wellington - 9th June 2015
Ōtautahi - 10th June 2015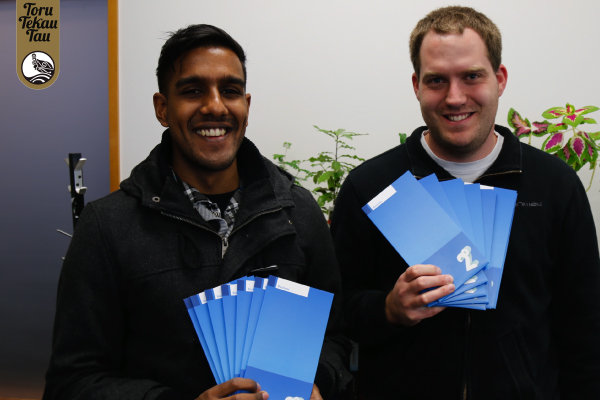 Hangarau kaimahi distribute the new 2degree connection packs.
Staff at other locations who require assistance should dial 2degress at 0800 022 249
The 2degrees agreement will see TWoA make a 41 percent cost saving after transferring its mobile account from Spark NZ to 2degrees.

The benefits for kaimahi include:
Unlimited calls in Aotearoa and to Australian mobiles and landlines.
Unlimited texts in Aotearoa and to Australian mobiles and landlines.
TWoA mobiles will retain their existing number and a local number so that tauira and whānau can call our kaimahi without being charged for a mobile call fee.
A pool of data is available to be shared with users.
2degrees are also to partner with TWoA to develop tauira including possible job opportunities.
Where there is no 2degrees coverage in areas like Northland and Blenheim, those TWoA mobile users will remain with Spark NZ.
Less time, if any, spent managing monthly phone bills.
"This is more than a business transaction it is about building a long-term relationship with a company that shares similar values and ideas about making a difference in Aotearoa," says Garry Johnston.

2degrees arrived in Aotearoa in 2009 and have invested more than $550 million in building a national 3G and 4g mobile network that now covers 97.5 per cent of the country. Hautaki Trust, a Māori spectrum stakeholder, owns a shareholding in 2degrees.