Te Wānanga o Aotearoa social media advisor Charis Oldfield has added a coveted New Zealand Radio Award to her resume.

Charis and her husband Phid, aka Mr and Mrs McAwesome and friend Matthew "V8Matty" Bartley host Hashtag Radio that won the best spoken/informational English programme category at the New Zealand Radio Awards in Auckland last week.

The talented trio that co-founded Hashtag Radio made national broadcasting history as the first podcast network in the country to win a NZ Radio Award.

"It was quite intimidating being a podcaster and surrounded by the large traditional broadcast behemoths of the radio industry, so to win the award was extremely humbling," says Charis.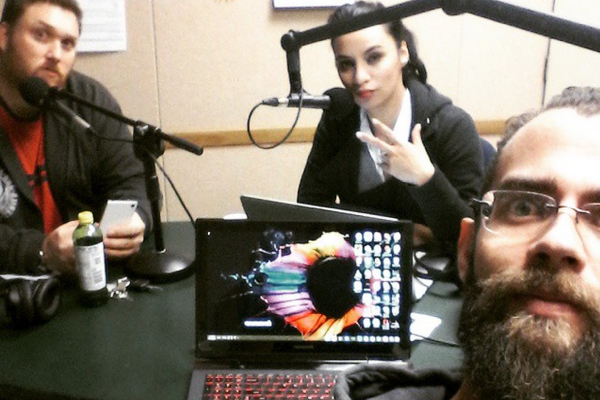 In the studio the Hashtag Radio team gets ready for their weekly radio/podcast show
Charis, who works as a social media advisor at Te Puna Mātauranga by day and Hashtag Radio by night, says the HashtagME podcast network has developed over the past three years.

HashtagME now has six podcasts on the podcast network with its largest audience in the United States.

"Hashtag is the uncultured roundup of all things social media. web, tech and gaming, we focus on trying to bridge the understanding gap between geek and the rest of the world." summarises Charis

"Take for instance a cell phone that you are about to buy, and the salesperson says that it has a 2100MAH battery, what does that mean to anyone? At Hashtag Radio we interpret the 2100MAH into what you really want to know, which is how long your cell phone battery will last if you use it."

Charis invites kaimahi to tune in as they celebrate live this Saturday at 5pm on Freefm, , or on iHeartRADIO their next milestone - 150 episodes of the show.

Hashtag Radio NZ is HashtagME's flagship podcast and airs on Waikato Free FM every Saturday before being distributed on the Access Radio Network across New Zealand.