"Who feeds our Hinengaro, Tinana and Wairua if not ourselves; to help become more proficient at individual or collective, ako"

A unique 'ako experience' that involved the revitalisation of raranga techniques, collaboration and rangahau was instrumental for a group of TWoA raranga kaiako.

Kaiarahi Gloria Taituha said the four-day professional development experience held at Blenheim's Omaka marae was vital and a first for the 25 kaiako who were able to attend.

"Most of the kaiako have lost their respective mentors in Raranga and Whatu Muka hence a need to learn from each other," said Gloria.

"The sharing of knowledge and techniques with all kaiako was invaluable which has certainly added to their kete mātauranga, which then will have an ongoing benefit for tauira."

Gloria said a particular highlight was the chance to learn an endangered weaving technique from kaiako Margaret Bond, who had learned the method from the renowned weaver Diggeress Te Kanawa.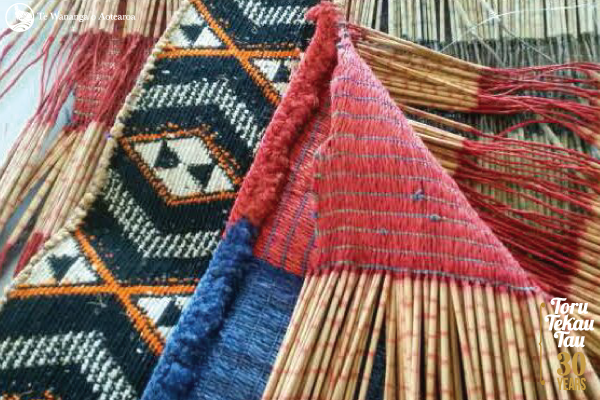 "It was all about a particular way in which to start a whāriki, many of the kaiako in attendance had never seen that technique before," said Gloria.

"It is our job within Te Wānanga o Aotearoa to continue to revive these techniques."

Gloria adds that one outcome of learning the technique was to apply it and this involved collaboratively creating a kiekie whāriki. To complete this project was a labour of love involving a two-hour river trek through dense Malborough ngahere to harvest the kiekie, several hours preparing the material and an all night marathon to finish the whāriki. The whāriki was then gifted to Omaka marae.

During the four-days as well as working on individual projects restorative rangahau was also a focus. This involved discussing whether a particular piupiu made in the 1950s could be restored and sharing, examining the techniques used on a particular whāriki.

Gloria says it is important that the raranga kaiako replicate "ako experiences" such as these in the future.
"As Kairaranga and Kaiwhatu it is important to identify and practice the customary techniques of our tupuna to ensure that they will not be lost."

Part of Te Maunga Kura Toi, Raranga is one of the foundation programmes within Te Wānanga o Aotearoa.

There are currently 600 enrolments in Te Wānanga o Aotearoa raranga programmes from certificate to degree level throughout the motu.