Lomilomi practitioner Kawika Aipa, from Hawai'i, presents his model of kaitiakitanga.
More than 80 health professionals gathered in Mangere in November for an annual conference that saw them present their ideas and models of kaitiakitanga (supervision) developed over the year-long Kaitiakitanga - Postgraduate Diploma in Bicultural Professional Supervision course.
The course is unique in that it uses mātauranga Māori as the core of its supervision curriculum in a range of disciplines. It is aimed at professionals with at least five years' experience working in areas such as social work, health, nursing, midwifery, counselling and education or in their community, iwi or hapu.
The Kaitiakitanga - Bicultural Professional Supervision National Conference 2019 took place over four days and saw tauira from around the country present their models of kaitiakitanga practice to a panel of judges.
Students from Te Wānanga o Aotearoa campuses in Papaiōea, Whirikoka, Tauranga, Mangakōtukutuku and Manukau attended the conference, which featured two days of presentations, along with guest speakers and other presentations from service providers.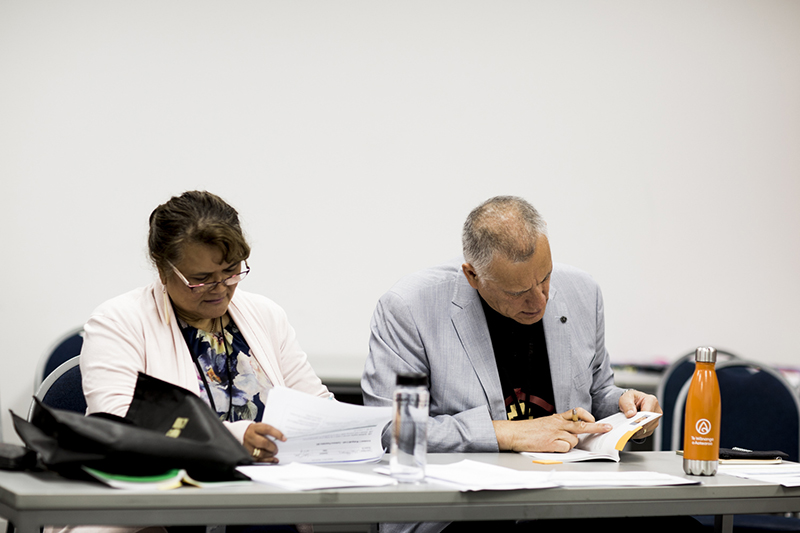 Kairuruku social work Jodie Owen and Papaiōea kaiako Lewis Stephens assess one of the presentations.
Since it was first developed in in 2017, the course has proved incredibly popular, with the Mangere campus now offering two cohorts each year and a waiting list already established for 2020.
Mangere kaiako and conference organiser Kelly Leef-Tate says the course is designed to address the need for confident, competent and conscious kaitiaki/supervision practitioners in a range of disciplines.
"The programme culminates in presenting at this conference and demonstrating the validity of the bicultural model of kaitiakitanga/supervision students have developed during the course. This also contributes to the growing indigenous body of knowledge on kaitiakitanga."
Kelly says the course is run through a combination of classes and weekend noho marae, meaning students are able to keep their jobs while they study.
They also gain important skills which are proving increasingly popular in the workplace, she says.
"The unique bicultural aspect of the course provides our students with the knowledge, skillset and professional competencies to offer their clients the quality of service they deserve."