Patrick Salmon wearing a heru and a heru in its box (below).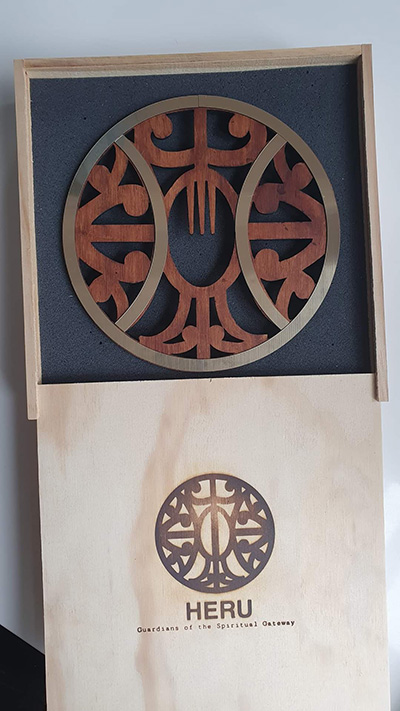 A tactile traditional taonga which combines a healing cultural narrative with the latest hi-tech techniques is showing strong promise in helping Māori wāhine to empower themselves, tackle harmful habits and stay smoke free while hapū (pregnant).
Wooden heru (combs), which interact with a smartphone app incorporating traditional wisdom about the protective power of the heru, are the subject of Patrick Salmon's He Waka Hiringa (Master of Applied Indigenous Knowledge) study at Te Wānanga o Aotearoa.
Patrick has just done a presentation on Heru & Hapū at the Mangakōtukutuku campus in Hamilton, where he lives, as part of finalising his degree studies.
"Of 30 wāhine around the Waikato who've participated in a trial of the heru programme this year, 90 per cent have been able to stay smoke free while hapū," says Patrick (Ngāti Awa).
"Services and delivery methods to whānau need to be reviewed in my opinion and it is even more crucial now post COVID-19 lockdown."
Patrick has a background in social services and felt new ideas were needed to better engage Māori with the smokefree kaupapa.
He looked at the traditional wearing of heru as a protective practice to support mental and spiritual health.
In te ao Māori, there is a belief that the spiritual element of a person enters into the body of the foetus through the fontanelle or spiritual gateway at the top of the head while in the wharetangata (womb). Heru are traditionally used as a kaitiaki (guardian) of this gateway for protection, says Patrick.
The power of heru came from ngā atua (the gods) who were often depicted wearing them. "They adorn the heads of our atua."
The Heru & Hapū Māmā project weaves this cultural kōrero together with a smartphone app called KAIRUA which is used by hovering a smart device over the heru to initiate an augmented reality experience. The experience offers multiple introductions to different tīpuna (ancestral) kōrero. The heru itself is a taonga which is a visual and tactile reminder of wellbeing and remaining smoke free. Women also were supported with a series of "Digi-Wā" (digital wānanga), created by Patrick, that were delivered by different Māori practitioners from around Aotearoa.
These elements when combined become a sort of "nicotine replacement therapy" based on inidgenous knowledge rather than, for example, nicotine gum or patches, says Patrick (although gum and patches were also used by several women in the trial).
The power of the kōrero on heru's history is a key element in the way the programme works to tackle addiction, he adds. "It's definitely using cultural narratives as a healer and, if you can change your thinking, you can change the world."