Six handbuilt printing presses have been delivered to Te Wānanga o Aotearoa campuses around the country in a move expected to provide more choice for those studying and teaching the arts.
The US-made Conrad A2 Monotype presses are made to order and are highly regarded in the fine arts world.
After being delayed for over a year due to COVID-19 supply chain disruptions, the presses were finally distrubuted during Semester B 2021 to Te Wānanga o Aotearoa sites in Tauranga, Rāhui Pōkēka, Ōtepōti, Whirikoka, Porirua and Ōpōtiki, where Toi Ataata – Māori Visual Arts prorammes are taught.
Toi Kairuruku Kim Marsh says the presses give more options for tauira and kaiako.
"This enables our kaiako to extend the media choices availble to tauira in the programmes they are teaching. We see this as a great space of growth for our visual arts programmes, and also an opportunity to link with digital tools to create a variety of mahi."
"Ōpōtiki has been strong in print over the last few years, and Gisborne have been finding very inventive ways to press those prints."
Toimairangi in Hastings aleady has a press, which Level 5 kaiako Michelle Mataira runs and has a committed interest in this media.
"A big mihi to our kaiako on the ground who have been working hard in the print area without these tools, and who have actively supported our mission to get this done," Kim says.
Earlier this year, Tokelau artist Te Wānanga o Aotearoa kaiako Jack Kirifi led kaiako at a toi printmaking hui in Porirua and Kim says further training is on the cards for next year.
"We are hoping to follow up our Printmaking training in 2022 by working with Toi Whakaata, the Māori Printmakers Collective towards wānanga and development opportunities for kaiako."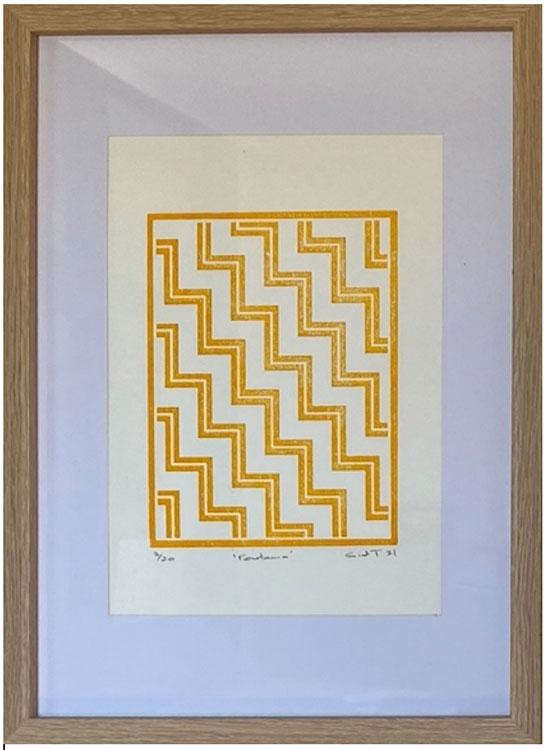 Sid Thompson, Ngāpuhi.
Poutama, 2021
Wood block print.
Block created with digital source and CNC router