* Chrisseann Wihongi works on her kākahu.
Besides producing work of great beauty, raranga and whatu offer a way to connect with tīpuna and to one's inner self, as well as providing spiritual healing, say kaiako and tauira involved in a community exhibition in Te Kūiti.
Kaiwhatu from the Maniapoto campus of Te Wānanga o Aotearoa in the Waikato town put on a display of their art at the Maniapoto Arts Fest this week, joining with partner agencies around the theme of "the journey from hurt to healing". The partners included the Maniapoto Family Violence Intervention Network, Waitomo District Council, Waitomo District Youth Council, Waitomo Society of Arts and Creative NZ.
As she works on a kākahu at the TWoA stand at the Les Munro Centre, Chrisseann Wihongi (Ngāti Porou/Ngāpuhi), a level 5 tauira, says raranga and whatu evoke thoughts of passion, legacy and wairua and that learning the art is helping her on her journey of recovery through difficult times.
"For me this has been a healing journey."
Level 5 tauira Sandy Hohepa (Ngāti Maniapoto/Raukawa ki Wharepuhunga), who manages TWoA's early learning centre at Apakura in Te Awamutu, enjoys the "very calming, very therapeutic" qualities of raranga and whatu.
"I regret not starting this earlier. It's also about keeping this tradition alive."
Sandy intends to share her knowledge with her whānau.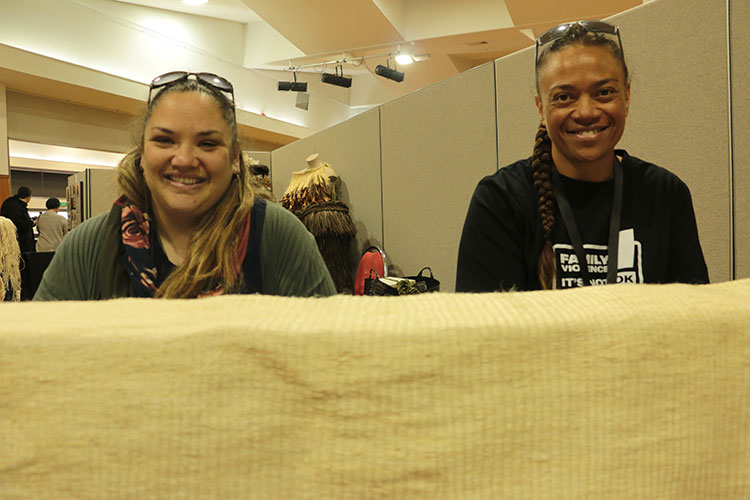 * Kaiako Janaya Christie (left) and tauira Sandy Hohepa working on a kaitaka Paepaeroa together at the exhibition.
Level 4 tauira and sisters Hayley Flintoff and Teneille Morgan (Tainui/Raukawa ki Wharepuhunga), say they're really enjoying the path raranga and whatu provides for them to connect to their tīpuna.
"I just love all of it, getting back to my roots," says Hayley.
"My main goal," says Teneille, "is to continue on my journey coming back to te ao Māori through raranga and te reo.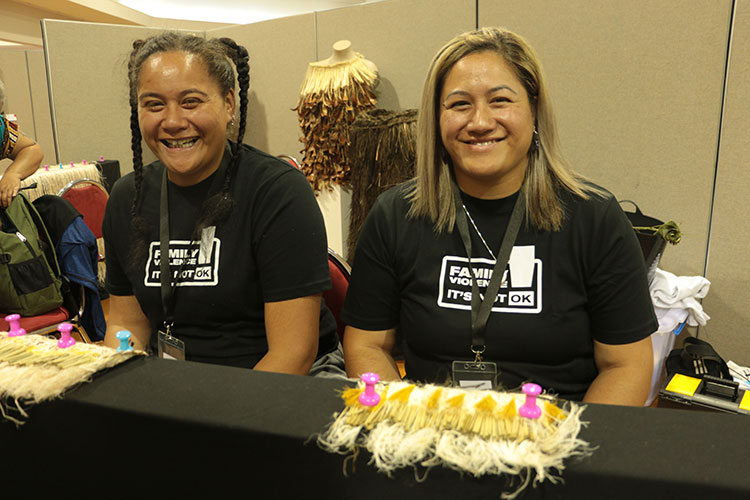 * Sisters Teneille Morgan (left) and Hayley Flintoff weaving muka tūparu.
Janaya Christie (Ngāti Maniapoto), one of two raranga kaiako at Maniapoto campus, agrees the art is a great way to reconnect with one's inner self, tīpuna and identity as Māori.
She loves its healing qualities. "If you're feeling down, it's a beautiful tool to help uplift the spirit. We want to promote raranga and whatu as a means of healing and grounding.
"It has been a privilege to be here this week amongst the community sitting alongside kākahu and kete made by renowned kaiwhatu Diggeress Te Kanawa and Rangimārie Hetet."
Anyone interested in studying raranga at Te Wānanga o Aotearoa can contact 0800 355 553 or visit our website for more information.